Encounters Under the Southern Cross
Two centuries of Russian-Australian Relations 1807-2007
The year 2007 marks a significant jubilee in Russian-Australian relations. Two centuries earlier, the Russian sloop Neva sailed into Port Jackson to a warm welcome by Captain Bligh and New South Wales settlers, thus beginning a relationship between the two countries that has been marked by mutual respect and warm sympathy, along with no little suspicion and even open hostility at times.

Global confl icts have often brought the two countries together as close Allies, notably in World War I when nearly a thousand 'Russian Anzacs' joined the AIF, and in World War II when Australians sent hundreds of thousands of sheepskins to their beleaguered comradesin- arms. Yet the Crimean War of the mid-19th century also led to an outbreak of Russophobia and fear of invasion in the Australian colonies that lasted for decades. The Russian Revolution of 1917 reverberated in Australian domestic politics for most of the 20th century, and the Cold War found the two nations firmly locked in opposing ideological camps.

Russian and Australian specialists, is the fi rst work in any language to address the whole range of Russian-Australian relations, both chronologically and thematically. Based largely on archival sources, and non-polemical in tone, this volume commemorates 200 years of often dramatic ties that is capped in 2007 by the first visit of a Russian Head of State to Australia.

EDITORS:
Professor Alexander Massov is Head, Department of History, St Petersburg State Maritime Technical University. He has written many works on Russian-Australian relations in the 19th century, including St. Andrew's Flag under the Southern Cross (1995), Russia and Australia in the Second Half of the XIXth Century (1998), and (with Elena Govor), Russian Sailors and Travellers to Australia(1993).

Dr John McNair is Senior Lecturer in Russian and Convenor of the Russian Program at the University of Queensland. He received his Ph.D, from the University of Edinburgh in 1977, studied for a year in Leningrad, taught at Trinity College, Dublin, and since 1983 has lectured in Russian language and literature at the University of Queensland. He is a specialist in Russian-Australian literary contacts.

Dr Thomas Poole, now retired, lectured for 27 years in Russian and Soviet history at the University of Queensland. Educated at Princeton, Kansas and Massachusetts universities in the USA, he has participated in many academic exchanges to the USSR and Russia, and lectured at Russian institutions. A researcher in Russian-Australian relations, he edited (with John McNair), Russia and the Fifth Continent (1992).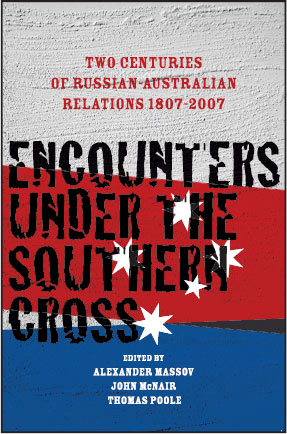 AUTHOR:

Editors: Professor Alexander Massov; Dr John McNair; Dr Thomas Poole
STATUS:

Back List
PRICE:

$49.95
ILLUSTRATIONS:

B & W photos
FORMAT:

Paperback
DIMENSIONS:

235 x 135 mm
ISBN:

978186333323844