Shields of Melanesia
This is the first comprehensive book on the war shields of Melanesia. War Shields: New Guinea, New Britain, Solomon Islands illustrates more than 100 types of shields from all culture areas of Melanesia that used such objects. Around 80 per cent of the shields illustrated have never before been published.

The book also explains why the use of fighting shields in the South Pacific was confined to Melanesia. Adrienne Kaeppler, one of the foremost authorities on the cultures of Micronesia and Polynesia, has contributed a chapter on the protective devices other than shields that were used in those societies, and explains why shields were not used. The typology of war shields used in the book is based on an exhaustive survey of the literature, on the field experience of the authors, and on a survey of the collections of the major Australian museums.

Two recent books on shields covered these objects from most parts of the world, including Melanesia. War Shields, however, illustrates twice as many types of Melanesian shields as the previous books, and includes ten classifications identified and published for the first time.

Barry Craig's introduction to the book provides an overview of the war shields of Melanesia, drawing on the results of the other chapters. Dr Jim Specht has contributed the foreword.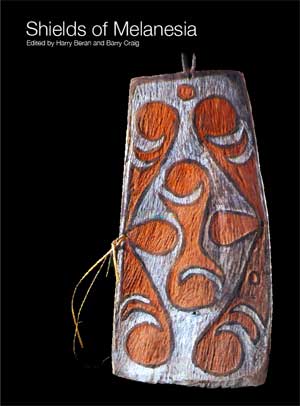 AUTHOR:

(edited by) Harry Beran and Barry Craig
STATUS:

Back List
PRICE:

$89.95
ILLUSTRATIONS:

100 full-colour photographs
FORMAT:

Portrait; hardcover; c. 200 pages
DIMENSIONS:

250 x 210 mm
ISBN:

1863331964